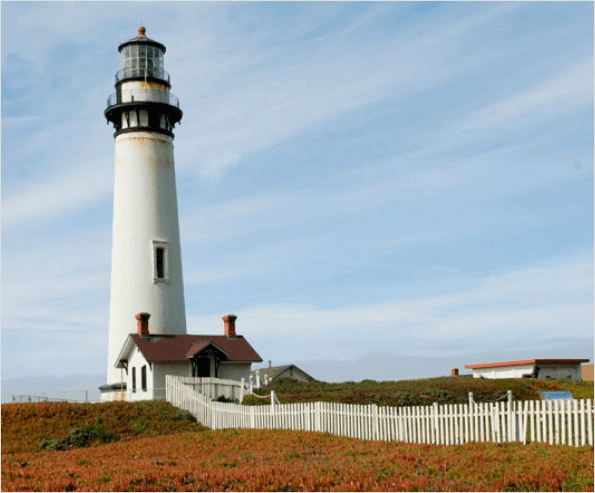 If you're the kind of traveler that likes to save money whenever possible who also doesn't mind forgoing a bit of privacy – maybe you even love making new friends – then a hostel may be right up your alley, even as a wheelchair-user.
The good news is that thousands of accessible hostels exist all around the world. While it's great so many are out there, not all of them are something to write home about. Many are barely accessible and are in some pretty blah locations.
There are however some amazing wheelchair accessible hostels located in an outstanding locations. These hostels give you the best of both worlds – frugality and accessibility to a great location – so you can visit where you want without fear of going broke by the end of your trip. Now that's my kind of vacation.
Read on seven accessible hostels found in some of the most unexpected locations in the world.
7. Pigeon Point Lighthouse Hostel – Pigeon Point, Northern California
For a environmentally-friendly hostel located off the beaten path in California, is the Pigeon Point Lighthouse Hostel in Northern California, a hostel perched off the cliffs of the Pacific Ocean in the tiny town of Pigeon Point.
What's fabulous about this hostel, other than the fact that it's wheelchair accessible, is that it's located in one of the most beautiful places in the world – at the base of the historic Pigeon Point Lighthouse that's been around since 1872. The hostel is comprised of 4 separate bungalows, each with its own common rooms, and there are 3 self-serve fully-equipped kitchens.
It also has one accessible bungalow; a 3-bedroom bungalow called The Dolphin. This facility includes a fully equipped kitchen and a huge accessible bathroom, enough for a 360 degree spin, and a roll-in shower. Other bonus features of the Pigeon Point Lighthouse Hostel include cove beaches, tidepools, an oceanfront boardwalk and free Wi-Fi.
Learn more: Pigeon Point Lighthouse Hostel
6. Contemporaneo Hostel – Botafogo, Brasil
A 100 year old hostel near Rio de Janerio, the Contemporaneo Hostel is artist-inspired hostel that caters to young artists and their guests. If the idea of waking up in a room full of artistic inspiration sounds like your kind of thing, then this is the hostel in Brazil to check out.
The Contemporaneo Hostel is also wheelchair accessible. It offers an accessible suite among their 6 suites that's completely accessible and it has its own private bathroom. LCD TVs, free Wi-Fi, an art gallery and air-conditioning are also part of this property.
On top of accessible accommodations, the hostel is 300 meters from Rio de Janerio's subway system that was just made accessible for the upcoming Olympics, helping explore Rio and the famous beaches of Copacabana and Ipanema.
Check it out: Contemporaneo Hostel
5. Zug Youth Hostel – Zug, Switzerland
A working hostel that's been in operation since 1987, the Zug Youth Hostel has 88 beds and a whole infrastructure that caters to guests with disabilities. There's also a onsite art exhibition that's available to view for free. The Zug Youth Hostel has everything disabled guests may need, from a roll-in shower and accessible beds to a wide elevator.
A breakfast buffet every morning is also included, as well as vegetarian meals. This hostel is particularly good for athletes with disabilities too since it's minutes away from the renowned Herti Sports Complex. Miles and miles of paved paths, a waterfall, as well as only 2 minutes from a nearby lake are some other attractions of the fabulous Zug Youth Hostel.
Check it out: Zug Youth Hostel
4. Extol Inn Youth Hostel – Prague, Czech Republic
A quiet youth hostel located near the heart of the historical center of Prague, Czech Republic, the Extol Inn Youth Hostel offers all the things you'd expect from a great hostel – 24 hour hot showers, self-serve kitchen, no curfew – combined with wheelchair accessibility and a lift (elevator).
What's impressive about this particular hostel is the extras it offers – a restaurant, free Wi-Fi, secure parking, minutes away from accessible public transport, as well as a fitness room and a Jacuzzi available (for an additional price).
Check it out: Extol Inn Youth Hostel
3. Belfast International Youth Hostel – Belfast, Ireland
For you Ireland fans you can't get a more accessible hostel in all of Ireland than the Belfast International Youth Hostel. Located between Belfast's historical center and the University Quarter, this hostel is great for all ages and offers two rooms that are completely wheelchair accessible.
Free Wi-Fi, rentable computers, a cafe, walking tours, laundry facilities and 24 hour staffing are also included. To book an accessible room at the Belfast International Hostel, you must contact them directly.
Check it out: Belfast International Youth Hostel
2. Pere Tarres Youth Hostel – Barcelona, Spain
The Pere Tarres Hostel is a completely accessible hostel located in a brand new building right in the heart of the financial and shopping district of Barcelona, Spain. Thanks to hosting the Olympics in 1992, Barcelona is a peerlessly accessible European city.
This beautiful hostel offers 320 beds, 32 of which have been adapted for those with disabilities, meaning no bunk beds, bathrooms with roll-in shower and rooms free of architectural barriers. Each room has its own private bathroom as well. Other bonus features of the Pere Tarres Hostel include a bar-restaurant buffet, ping pong tables, laundry, Wi-Fi, security lockers and a car park.
Check it out: Pere Tarres Hostel
1. Koln-Riehl City Youth Hostel – Cologne, Germany
For a family-friendly hostel located on the Rhine River of Germany, look no further than the Koln-Riehl City Youth Hostel. This chic hostel offers 11 wheelchair accessible rooms, all of which have a private bathroom.
And this hostel is near everything awesome in Cologne – the Cologne Zoo, the cable car ride over the Rhine and adventure pools. The Koln-Riehl City Youth Hostel was also recently renovated in 2011 and a bunch of amenities were added, such as solar heat and power, an in-house bistro and bar and a disco.
Check it out: Koln-Riehl City Youth Hostel
You can't beat the buying power of an accessible hostel vs. staying in a hotel. If you're the type of person that gets up and goes when you're on vacation, it really is the smartest financial decision. Most hostels charge less than $40/night per person. Just remember, most have stay restrictions (both minimum and maximum) so plan your stay accordingly.
Do you know of any amazing accessible hostels we missed?